Haiti, as a typical representative of the Third World. Laughter through tears
We hear a lot about the beauty of certain parts of the world. The man decided on their own experience to see this. Eyewitnesses of traveling to Haiti – one of the countries of the Third World publishes Imperor. His presentation is laughable, mixed with a sense of disgust and compassion.
10 facts about Haiti
I do not know why I was driving here, though. I was just lazy not discouraged. But I know why run away like mad and did not look back, afraid to stumble and stay here at least for a moment. From the first day I started to look forward here. I taught Creole, make it easier to understand what is happening, I have lived all this time in the family, he went to the tail of their local, met with his friends, enemies and all those with whom he was connected life. I talked a lot, a lot of asking more answered their questions. There was not a day that I did not think, do not look at, not analyze. There was not a day that I did not want to surrender, to give up and just evaporate. There was not a second that I feel here is easy and comfortable. It was hard to force myself to start writing this post. I think of him still stinks, I still want to cough and sneeze, remembering all the horrors that I saw in this small, but very ugly country. Haiti – here you do not want to live and afraid to die. Their future will not get any big change, it shall be the bottom of the deep development of civilization. I'm really trying to see the light, however. I tried in vain to believe, to find here at least a spark of hope, but instead found only 10 depressing facts that thought, are also clear evidence that change is not coming. Everything here is very bad. And here's why.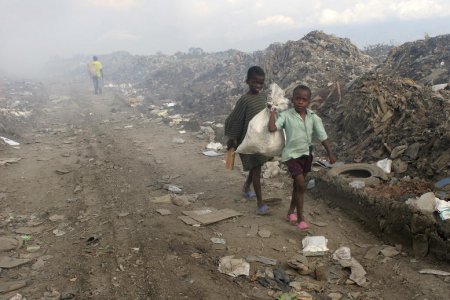 1. They believe in God. These people basically believe in everything that can not be explained. They believe in anything but themselves. They believe in voodoo, the lines on the hand, predictions, curses, ghosts, black magic and light. For many, there is still not clear even the shape of the globe. And this is no joke, no aphorism, taken in order to describe their ignorance, it is true, from which the hair stand on end. People all day stick out in churches, offer up their calloused hands to the sky, and in the evening come to a miserable ruined house where six young children cry, and nothing to eat at home. God is everywhere, he is depicted on the windows of buses, on shop windows, he lives in the name of the institution, his name is steeped in everything. About him say passersby about him sing songs about him and I ask everyone with whom I've talk to. "Do you love Jesus?" – They say. "I do not believe" – ??every time I answered. At this moment their eyes faded out, there are emptiness and lack of understanding, there is a failure of all systems. It is not accepted to not believe, there is no accepted to question, to doubt, to think and to have their point of view. There has long been all settled, there is a God, because that will tell you your mother when you begin to understand human speech. Mama will make you the same as it is. The blind, stupid and unable to think. You continue the race of slaves, no one will give you a choice. There are afraid of hell, but once I told them: "You have nothing to fear, you are in hell, you it home even call."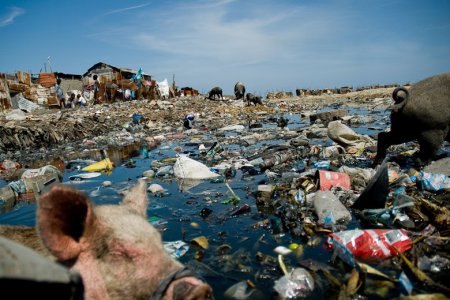 2. They are stupid and uneducated. I saw their schools, leafing through their notebooks, textbooks, and for me, slowly but surely getting to their seats. Do you know how many pages are in the book, for example, by geography, which is designed for a one-year study? 42 pages. Half of them are pictures, the second half – absolutely useless dry facts, mostly about the nature of Haiti and on the world map marked with the following countries: Europe, Africa, the United States, Haiti and China. And I do not accidentally call them strange, because everyone with whom I spoke said that this is the case. Thirty years, middle-aged men were very surprised when I was told that Africa – the name of the continent, and that there are many, many different countries, there are different languages, different religions and different traditions. What Europe is the same story, it is as if the terrain, this area, and there is also full of different countries, each of which has its unique and unique. And children learn 40 pages per year. And so for each subject. The history of Haiti – 46 pages, 50 foundations of social education, math, too, so. Even in the mandatory school curriculum including the Bible, so even if your pious mother did not do so, the school will produce exactly in your faith in miracles. They are constantly talking. In Haiti, there is always a lively dialogue. Here people are a little silent and little thought, they are always about something argue, scream and resent. Basically it is a banal discussion of the latest rumors. They say there last car overturned, and three days ago, shot two of some peacekeepers, one of these days Jesus heard my prayers and sent a nice dinner yesterday daughter braided pigtails, she was crying … This is not the truth is born in these disputes did not create and did not invented just seems scary silent here, here and talk about what they see.
3. There are too many to give birth. I lived in a house with seven children. The owner of the house, there were three of us plus a living woman, whom he sheltered in his time. She had them four more. In the next house a woman has five children, five of her neighbor, too. Here, the girl becomes a mother, as soon as her body becomes physiologically suitable for this purpose. However, I have not met a whole family, which would be both parents. They do not think, do not plan, do not qualify, they just multiply poverty and squalor. So on the second day of our acquaintance with a girl, she told me straight: "I like you, let's make babies." And the proposal was not about sex, no, it was about the children, just children, period. "Do you have children?" – The second question asked to you at the meeting, immediately after the "where are you from?" "Why do you have so many children?" – I asked more than once. "Well, how else then? Since we live here. I love them. " If these people had a modicum of intelligent and honest with themselves, they would have easily found the true cause of the children's madness – there is nothing more to do. So your life is at least some minimum meaning and purpose, otherwise you will simply exist without a purpose and a reason. There are so many children that walking down the street immediately notice that there are more than adults. And if it is absolutely honest and cynical, these people simply produce new mouths to 15 years are useless and do not bring any benefit either a family or the state. If every gaityanets gave birth to a child, but at the same time trying to give him all the best that it can only, it would be a completely different country. But this will not happen, because God commanded to be fruitful and multiply.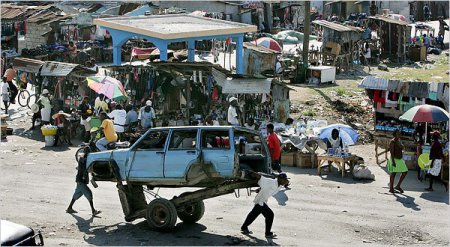 4. They beat their children. I have never in my life seen such an aggressive and strict upbringing. There is almost no talk with the children about their misdeeds, they do not explain why this is good and this is bad. They just beat for any fault. For small, beat is not strong, if anything broke or smashed, the cries of the poor child will be heard all the living on the street. They even have their own techniques. For example, the most common penalty is a strap on the palms. The child himself decompresses the palm of their hands, and its parent, he had already decided to strike five times or ten, for example. This is not the run of the belt, there is no cry of debt, there is a childhood education is the norm. The owner of the house where I lived for thirty-three times with a small shot of people, one of them killed. There is death, and the way to it is through the "happy" childhood.
"Do not you think that it is like parenting practices then affect children when they grow up?" – I asked him. "Everything comes from his childhood, every fear, every insult, the birth of a child, will take you through life. You'd be surprised that children grow into gangsters and shoot at each other, there's your answer to everything. You yourself are doing their evil and ruthless, since childhood. You yourself, no one else. "
"I never thought about it. I do not like to beat them, they just change the conclusions his antics. " "Believe me, you can solve all the words, and if not, then you should not give birth, then you're just not ready to raise a good person." He said he understood, but he Nichrome not understand, and no one here will not understand this all too long time goes on, there is hardly ever subside scathing sounds punishing belt and child sobs after the attacks.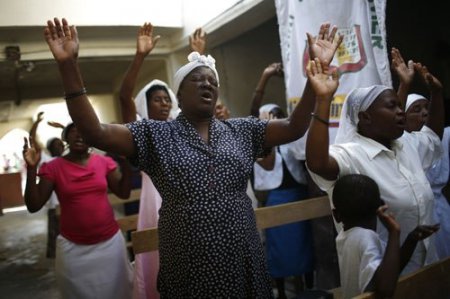 5. Here, life is good only to the priests, voodoo, drug dealers and cops.
Priests are cut big bucks. For that he will pray for you, put a lot of money in his pocket. If prayers and help you get something, for some time, you are obliged to pay him for this success. You managed to move to America? Kindly send the pastor couple of green gifts, is he prayed that you were given a visa. Mom recovered? This priest saved her. Pay him.
You want the death of his enemy? Then you have the black magician to visit. He poplyashet to the sound of the drum, nakolduyet, damn, you just pay the money to him. And neither the priests, nor to the voodoo is no joke will not. Still believe that they are real magicians. However, taking off his robe, they are transformed into ordinary goparey dirty gangster jargon and habits, but people do not see, they are blind, deaf and helpless. The best house in the village where I lived, belonged to a woman who once sold drugs. Police here in fact does not exist. They do not patrol the city, do not protect your peace of mind, they are just there, and a couple of them I once shook hands while walking with his "guide". Both times they were in civilian clothes near the institution that sells lottery tickets, and just hang out with your buddies. I do not know what they do, but their work is clearly not for the benefit of ordinary people.
6. They do not understand medicine. The level of their medicinal knowledge is so poor that sometimes even surprising that these people live to be forty years. They begin to hurt from childhood, they are born sick and with multiple abnormalities. I saw children with six fingers on one hand, saw a small child, who lives with me in the same house every day, climbed down the pieces of skin, and when his mother brushed, then the head was left almost hair. Seen sores on the head of another child, with whom he lived. There is no health, there is around a solid unsanitary conditions, dirt and disease. When I say that they all need vitamins in large quantities, they told me that they have no money. "Then why the heck do you keep procreating sick children?" – I asked. "We live like this, do not worry." Adults are constantly swallow some pills. That sleeping pills to sleep better at crying children suffering, antibiotics for any reason. As one man said to me, "antibiotics purify the blood, so if you have a headache, then the blood is dirty and need to be cleaned." I have a general impression that they believe the tablet norm and that the well-being of their constant need to drink.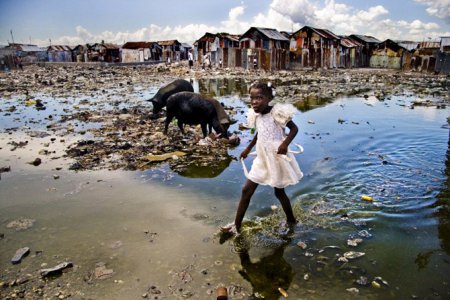 7. They live in the garbage. There are no dumpsters, no garbage trucks, garbage is thrown at his feet, and later played with him the very children with sores on his head and exfoliating the skin. And when the rain comes, the streets turned to rivers of stinking garbage. Each village has its own garbage field that evening very nicely lit, causing light nausea with every breath. Here terror, friends, and not a drop of hope. I still stand as the picture is completely naked man and clears clogged drains over the banks. He was in deep shit, urine, dead rats, scraps and everything that tries to get rid of the human race. In his hands was not the glove, his mouth and nose were covered with a special mask, he was naked, absolutely. I still remember his empty eyes, remember the indifference with which he pulled out all the filth, I remember, I could not look at it for a long time.
8. They are deceiving. Like all the poor and forgotten by all countries, Haiti is constantly on his shoulder feels good and gentle touch of white charismatic priests who are sending crowds of young missionaries and preachers. They come in numerous shelters, which only close to my village was about five, and tell the kids that Jesus will hear their prayer, and all will be nishtyak. The ratio of children who are adopted, those who simply Nassau holiness in the ears is extremely disappointing. It so happened that in one of these shelters I visited as many as three times. Pastor White with a calm gaze – a former mafioso who, according to my friend, in the past a lot of here nailed grandmother, collecting donations through the Internet on these children, taking, of course, itself a solid percentage. Now he really settled down a bit, but the spectacle is still rotten. I hope here and does not smell, but rather cloying stink holy lies and feigned virtue.
Their government does not want improvement, at least the impression has developed at me personally. Instead of creating here a fertile ground for all sorts of foreign investments, they just are tightening the screws tighter. One peasant was going to build a toll road, good, quality, as is done in the neighboring Dominican Republic, but the government hall such a tax on the activities of the novice businessman, that the construction was simply impractical task. There is almost no electricity. In the cities, it is given about two hours a day, and when will these two hours, no one ever warned. In the villages, there is such a luxury. For all the 20 days that I spent here, a burning light bulb I have seen only for an hour.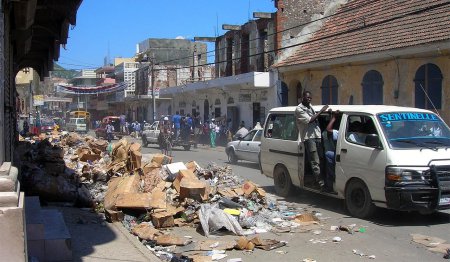 9. They are beggars. They constantly hold each other money, since each has a minimum of five Haitian brothers and sisters, and about thirty cousins, this process is catastrophic proportions. I was personally present at how each day my nigga took money from a new member of the family bottomless. I remember that he took 50 rubles from a saleswoman in a tent, which did not even know, I remember how hard to beat out money from the two men, whom he had once borrowed. There did not return on time, there is no one had no money, everything is shaky and unpredictable. Here, even the often cancel classes in the school, because the teachers are not paid money, and they simply refused to go to work. Here you can go on the bus, and as a result pay less than it's worth it, just say that today there is no money, and the children have nothing to eat at home. And you will not be large claims, it is Haiti. There are always talking about money, which no one has.
10. They are the same. It is the first country on my way to where I'm not afraid to generalize, I am not afraid that the reader will judge me by the one-sidedness and "one size fits all." They are the same, everything. In Haiti you from childhood to leave the choice of how to wash, how to prepare, what to think, what to ask, where to go, what to want. I remember being corrected in everything: how I wash my shirts, namely a hand holding the soap and how I drive them back and forth as I clean the vegetables when the cook is … You may not believe me, I would not have believed it, but all of these actions they perform exactly the same. They are equally held by the handle column that pump water, the same color are identical buckets, equally prepared in the same frying pan, the same wash dishes conventional detergent, the same crumble soap into the water, the same erase things in the same large basins equally sing songs about Jesus is erased … Scary? I was very. Haiti – a country in which there is complete chaos here you could do anything, at least for the head to go, no one to penalize you for it, but people will choose to be the same. All over. Terribly.
That's all I was no longer here, I do not inhale the smell, I do not see this nightmare, I do not come here, goodbye damn country. No, I hate these people, as well as any other members of the human race, some of them helped me, while others put spokes in the wheel. I do not feel sorry, I have no malice, I do not want to save them, or on the contrary to destroy. It is their personal hell, and a small particle of this nightmare I still show you. Peace for everyone.